Conical Lighting Pole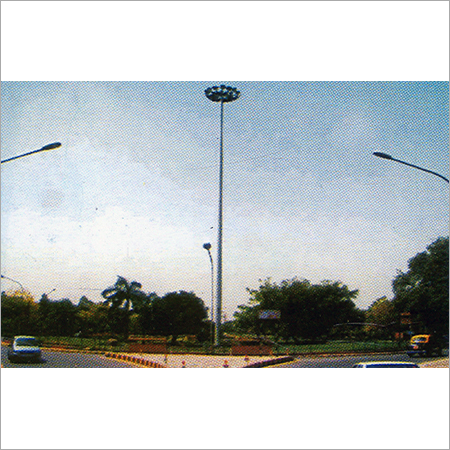 Conical Lighting Pole
Product Description
Built in keeping with industrial standards, the Conical Lighting Poles we offer have become known for their superior build quality and ease of installation. The poles are capable of easily handling heavy loads and have a stable structure owing to which they can resist strong winds. Designed by experts, the poles are resistant to corrosion and have an optimum weight to size ratio as a result of a hollowed out center. Today, the Conical Steel Pole are used to light junctions and other large areas and significantly increase the area covered by lights.
Mast having constant tapered polygonal cross section is available with maximum load bearing capacity. From oscillation to wind speed and stress are completely taken care while designing these poles.
Technical Features of Conical Poles:
1) Fixed Type Head Frame: Available with huge diameter in non-abrasive and rust proof aluminum pulley system to ensure long-lasting life and perfect balancing.
2) Winches: Winches are designed with the gear ratio of 53:1. They are available with no break of clutches. These self lubricated tools are designed for sustained and trouble free life.
3) High Mast Finish: The complete mast is available in fully hot dip galvanized design for longer life.
4) Lantern Carriage: We provide custom built and standard lighting designs in varied types and shapes. This is supported with 6 sq. mm. S.S. wire ropes that can be easily elevated or lowered mechanically and electrically.
Download Brochure

Trade Information
kolkata

5000-10000 Per Month
Himachal Pradesh, Tripura, Andaman and Nicobar Islands, Uttarakhand, Daman and Diu, Dadra and Nagar Haveli, Lakshadweep, Manipur, Nagaland, Jammu and Kashmir, Gujarat, Mizoram, East India, Goa, West Bengal, Punjab, South India, Jharkhand, Telangana, Assam, Delhi, Tamil Nadu, Bihar, Madhya Pradesh, Pondicherry, Sikkim, Maharashtra, Meghalaya, Chandigarh, Arunachal Pradesh, West India, Rajasthan, Haryana, Uttar Pradesh, Karnataka, North India, Andhra Pradesh, Kerala, Central India, Odisha, Chhattisgarh, All India

ISO 9001:2015